Lecture emphasized the importance of international data analytics, multilingual development, and necessary preparation for successful global websites.
Bob Zhang, founder and manager of USABAL Solutions LLC, was invited to host a guest lecture webinar for the Center for Global Business (CGB) at the University of Maryland Robert H. Smith School of Business on April 30th, 2021. Zhang spoke to students who will intern through the CGB's Global Marketing Virtual Internship Program in Summer 2021 about the topic of web globalization. 
The (CGB) is the driver of internationalization and global mindset education at the Smith School of Business. Because USABAL Solutions specializes in website design, development, and management services for international businesses and non-profit organizations, Zhang was invited to speak to students prior to the start of their summer internships.  His presentation stressed the importance of international data analytics, multilingual development, and necessary preparation for successful global sites. Zhang has years of experience developing websites and content marketing strategies for international businesses and organizations. His clients have included The Sister States of Maryland, Inc., National Foundation for Cancer Research, and Asian Fund for Cancer Research Limited. He believes the basis to designing a successful website and digital marketing strategy for international clients is reliable and open communication between vendors and clients.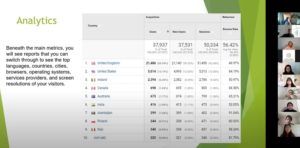 "[Mr. Zhang] provided a wealth of great information that students will be able to apply to their work this summer," said Greg Rafal, MA, assistant director of the CGB. "We thank him for presenting today."
Mary Beth Furst, MBA, EdD, associate professor of marketing at the Smith School of Business, added, "It was a great presentation to kick off the students' experiences."
Lecture attendance was limited to University of Maryland students, all of whom attended virtually. 
About USABAL Solutions LLC
Founded in 2011, USABAL Solutions is a website development and digital marketing solutions provider based in Columbia, Md. USABAL Solutions serves the greater MD/DC area, helping businesses and organizations achieve their digital goals by offering a variety of web services. These include: creative website design and development, online marketing, content management, ecommerce, marketing analytics, and multilingual website solutions. To schedule a consultation about your business' website and digital marketing needs, contact USABAL Solutions LLC at  contact@usabalsolutions.com.